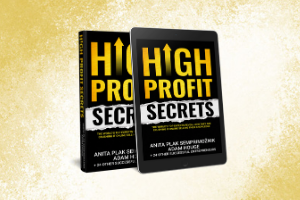 Would you like to take your business to the next level: 6, 7 figures, and beyond?
Business recipes are funny. What works for one entrepreneur will not work for another.
It all depends on your specific situation and desired lifestyle that you want to build your business around.
Check out my book High Profit Secrets, I co-authored with other 25 successful entrepreneurs!
I shared:
How I got started doing what I'm doing now and how did you discover my passion;
How do I make money from selling my knowledge:
What have been the key factors to my success and why;
How do I continue to grow and scale my business. What's my secret sauce;
If I were to start from scratch (no list, no products, and nobody knew who you were), what would I do in the next ninety days to grow as quickly as possible, making money selling my knowledge?
… and more!
There are, for sure, some contradictions to each other. And that's ok. We all know one size doesn't fit all. Therefore there is no one single advice suitable for everyone.
However, despite the fact that we have different business models and different lifestyle desires and we might have different preferences or approach to growing our businesses, there are certainly some common themes, such as:
We all got started from scratch, so if that's where you are, or a little further ahead, you'll find multiple great ways to move forward;
We are crushing it online by selling our knowledge whilst doing what we love.
We are independent thinkers and we stand on the shoulders of giants. We've all learned from others and now we're sharing what's been working for us.
If you'd like to take your business to the next level: 6-figures, 7-figures, and beyond, then come and learn the High Profit Secrets of these highly successful, world's top entrepreneurs today.
All these amazing authors are offering special BONUSES to people who buy High Profit Secrets (link inside the book).
No matter your area of expertise or level of experience, you'll find a model suited to your ideal lifestyle so you can truly take charge of your income.
>>>Get your copy of HIGH PROFIT SECRETS here
Anita