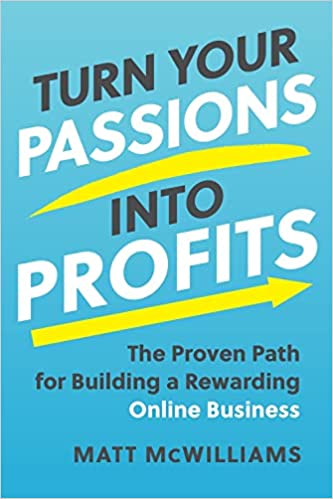 Have you ever wondered what it would be like to build a rewarding business online?
One that allowed you to turn your passion into a rewarding business?
If you answered "yes", you may run into the same brick wall others have when THEY looked for a formula on how to make it happen…
Sure…there's LOTs of information on the internet…
The problem? It's all over the place…
There isn't ONE spot where you can find everything in a step-by-step so you can follow along and create your business…
Until now, that is…
After listening to so many people talk about how frustrating it was to cobble together an easy-to-follow plan they could use to transform their lives, my friend, Matt McWilliams decided to DO something about it.
He wrote a book sharing EXACTLY how to turn your passions (your ideas and message) into a profitable business.
It's called…Turn Your Passions Into Profits…
Now, let me tell you a bit about Matt and why I was all ears when I heard about his new book.
Over the years, he's helped hundreds of businesses start and scale their affiliate programs, from one client who went from $0 to $124,000 in one year to helping a publicly-traded company go from $34 million to more than a quarter of a billion dollars in just three years. 
Knows a BIT about what it takes…I'd say. 😀
And Matt's been through the startup phase multiple times and has been publishing online for more than 15 years!
He'll be the first one to tell you that the first 2 million words he wrote along with the first 200 hours of audio and video content he produced has nothing to do with what he helps people with today. 
Today, it's all about showing people how to live out their passion and purpose…all the while earning a substantial income!
And, he's worked with all the biggees…
A-listers like Tony Robbins, Dean Graziosi, Michael Hyatt, Stu McLaren, Lewis Howes, Brian Tracy, Ray Edwards, Claire Diaz-Ortiz, Shark Tank's Kevin Harrington, Ryan Levesque, Jeff Walker, and Zig Ziglar. 
Let's just say, he knows a thing or two about monetizing platforms.
Matt's the real deal!
And so is his book, Turn Your Passions Into Profits!

CLICK HERE to order your copy of Turn Your Passions Into Profits

Turn Your Passions Into Profits offers step-by-step guidance for creating a profitable and lasting business.
It lays out the same formula he used to create a business he loves…from scratch!
Here's what you can expect to learn…
Gain clarity on the exact steps it takes to start, grow, and monetize your online platform.

Build up the confidence necessary to share your message with the world.

Realize that you DESERVE  to create a good income doing what you love.

Acquire the tools and strategies needed to succeed with an online business and build your own online platform.
You'll easily be able to find answers to questions you have about attracting an audience, building a following, and ultimately, how you can monetize your venture…quickly and sustainably.
And, it's all in one convenient spot!
Order today and a head start on creating the business of your dreams as you head into the new year!
CLICK HERE to order  your copy of Turn Your Passions Into Profits and get $588 in exclusive bonuses (time limited)!