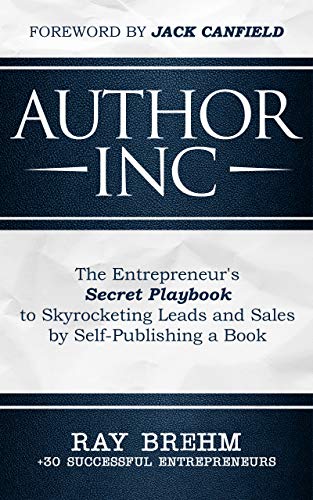 How Successful Entrepreneurs Use A Book To Drive Leads And Sales without wasting time or money!
If you are an entrepreneur who wants to use a book as part of your business, and what works for those who have come before you, then this may be the most important book you ever read, here's why….
But first a warning. Successful use of a book in your business is hard work. As you will see, we interviewed over 30 very successful entrepreneurs and they put effort into the craft. The ideas in this book will work beautifully, but only for those who are willing to actually put in the work. If that is you, then read on!
Our main goal with Author Inc was to assemble a unique group of entrepreneurs and pick their brains to see how they did what they did. But then we took it one step further.
We asked them to map out what they would do if they had to start all over again over the next 30 days if they had to start from scratch. We asked, "If you lost your list, your fame, your books, your products and all of your clients, and nobody knew who you were, what would you do? How would you use publishing to claw your way back?"
The results were amazing! Author Inc immediately morphed from an "interview anthology" to a world class handbook for entrepreneurs who want to use a book as a primary tool in a business.
But Author Inc is not only a must-have handbook, it also teaches:
How to build a list and make sales starting now, even if you have no list and no product
15 counterintuitive habits that entrepreneurs use to rapidly increase the likelihood of success each day (wait until you read the cigar story)
Where to find the best people for your email and reader lists
How to eliminate the long slow process of trial and error while building your online empire
Why you should never go it alone as an author
Why advertising less may actually make grow your list faster
Say Goodbye to weeks of trial and error, and start with one of our 30 day plans for your book and business
The Truth about your relationship with self-publishing platforms and how to maximize your profit from them
What to do if you have no readers, followers or clients and how to change it quickly
Contributors: Foreword by Jack Canfield, Ray Brehm, from Russell Brunson's Inner Circle: Steve Larsen, Jeff Brewer (Launch Hackers Lab), Rob Kosberg (Bestseller Publishing), Emily Hirsh (Hirsh Marketing); from Jeff Walker's Platinum Plus Mastermind: Ricardo Texeira (Karate World Champion), Luis Carlos Flores (Ninos De Ahora TV); from Frank Kern Inc: Nathan "Rocky" Anderson (VP of Marketing); from the self-publishing world: Matt Stone (Buckbooks and 100Covers), Brian Berni (Bookads), Derek Doepker (Bestseller Journey Simplified), Adam Houge (The Fan Base Formula), Qat Wanders (Wandering Words Media), Sonya Wadhera and Priya Wadhera (Book To Boss), Albina Gabellini (Better Coaching), Eevi Jones (Influencer Outreach), Jeff Hilderman (All-Star Academy), Vera Mirna (Easy Button Healing), Elizabeth Hebert (Your Dream Esteem), Anita Plak Semprimožnik (Online Business Marketing), Laura van den Berg – Sekac (Bestselling Author: Get Unstuck Now), Lori Saitz (Building Business Relationships), James Archer (The Sharelingo Project), Ashley Emma (Fearless Publishing), Richard McCartney (Kindle Book Promotions), Agustin Rubini (Promote Your Book and FsPal), Jerónimo Cabrera Rocha (NLP Training – Conexo-), Connor Boyack (Author: Tuttle Twins Series), Sean Sumner (Self-Publishing School), Scott Anthony (No Excuse Life), Marc Reklau (30 Days – Change your habits, change your life), Alinka Rutkowska (CEO of Leaders Press), Kenny Yap, Paul Brodie (Brodie Consulting) and Eric Van Der Hope (Book Publishing and Launch Strategist).